[Written in collaboration with Courtney Dec]
Back for week 2 of The Ramenu! These recipes are absolutely delicious and very in season for the summer! By the end of the summer, you will have a whole recipe book to fill out, who is excited? If you need to double or triple the recipes for more people, definitely do so! I know I do when I entertain my daughter Avery and her friends, or my friends! If you have any questions, feel free to email me on my blog and my team and I will get back to you as soon as possible!
Breakfast: Scrambled Eggs with a Side of Berries
You need:
1 egg
2 egg whites
4 strawberries
½ cup of blueberries
½ cup of blackberries
Preparation:
Scramble the egg and egg whites in a pan and once they are cooked serve on a plate with berries! Really fast AND easy!
Lunch: Avocado Tuna Salad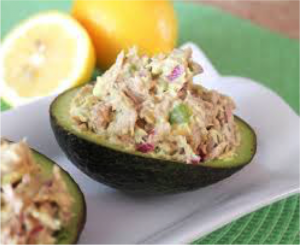 For this you will need:
You need:
2 cans of solid white tuna in water
1 ½ avocado
1/3 cup Cilantro
½ cup cucumber
1 green onion
½ lime
2 tablespoon of red onion
½ teaspoon garlic salt
1-teaspoon salt and pepper
Preparation:
Drain the tuna and put it in a bowl, add the avocado and mash it up. Next, add the cucumber, onion, cilantro, garlic salt and green onion and stir. Add the lime juice and then season with salt and pepper. You can eat it on crackers, whole grain bread or even make lettuce wraps! Chill before eating! I suggest making it in the morning and eating it when you are ready in the afternoon!
Dinner: Grilled Pineapple Teriyaki Pork Chops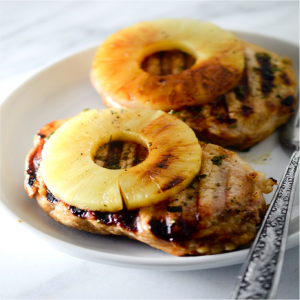 You need:
4 boneless pork chops
½ teaspoon garlic powder
½ teaspoon ginger, ground
½ teaspoon onion powder
4 fresh pineapple rings
2 tablespoons of less-sodium soy sauce
1 tablespoons of brown sugar
2 tablespoons of cornstarch
1 tablespoon of rice vinegar
1/3 cup of Tropicana orange juice
I hope everyone enjoyed this week's menu, stay tuned for next week!