[Written in collaboration with nutritionist Hillary Macias – Visit Her Web Site: Healthbyhill.org]
As you all know my life can be pretty hectic, which is why keeping dinner as healthy and easy as possible is a must for me! I'm all about a quick dinner that is nutritious and delicious, especially when cooking for Avery! I've come up with a list of some of my favorite quick and healthy summer dinner recipes for you all, I hope you enjoy them as much as I do!
Asparagus Ribbons with Lemon and Goat Cheese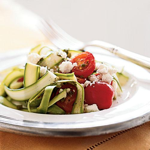 Substituting vegetables for pasta is one of my favorite tricks. You can use zucchini noodles for this dish too if you'd like. The combination of the asparagus with crisp lemon and savory goat cheese is sure to satisfy! Pair it with grilled chicken, shrimp or fish for a filling meal.
Recipe:
1 pound large asparagus spears, trimmed
1 1/2 cups cherry tomatoes, halved
2 tablespoons finely chopped fresh chives
2 tablespoons fresh lemon juice
2 teaspoons extra virgin olive oil
1/2 teaspoon freshly ground black pepper
1/2 teaspoon Dijon mustard
1/4 teaspoon sugar
1/4 teaspoon salt
1/2 cup (2 ounces) crumbled goat cheese
Instructions:
Hold each asparagus spear by the tip end. Shave asparagus into ribbons with a vegetable peeler to measure 3 cups. Reserve asparagus tips for another use. Combine asparagus and tomatoes in a medium bowl.
Combine chives and next 6 ingredients (through 1/4 teaspoon salt), stirring with a whisk. Drizzle over the asparagus mixture, tossing gently to coat. Top with goat cheese.
Grilled Halibut with Fresh Mango Salsa
Summer means grilling season and I am all about grilling instead of frying foods! The halibut paired with refreshing mango salsa really brings out the flavors of the fish. I like to pair it with roasted broccoli with garlic and lemon and a side salad! You can also substitute tilapia, mahi mahi or cod for this recipe.
Ingredients:
2 cups plum tomatoes, seeded and diced
1 1/2 cups diced peeled ripe mango
1/2 cup diced onion
1/2 cup chopped fresh cilantro
2 tablespoons fresh lime juice
1 tablespoon cider vinegar
1 teaspoon sugar
1 teaspoon salt, divided
1 teaspoon black pepper, divided
2 cloves garlic, minced
4 (6-ounce) halibut fillets
1 tablespoon olive oil
Instructions:
Prepare grill.
Combine first 7 ingredients. Stir in 1/2 teaspoon salt, 1/2 teaspoon pepper, and garlic.
Rub halibut with oil; sprinkle with 1/2 teaspoon salt and 1/2 teaspoon pepper. Place fish on grill rack; grill 3 minutes on each side or until fish flakes easily when tested with a fork. Serve with mango salsa.
Seared Tuna with Avocado Salsa

Having both tuna and avocado in a meal gives it a great amount of protein, and will help keep you feeling satisfied. The tomatoes add to the flavor of the tuna and avocado very nicely. I like to pair this dish with sugar snap peas or spaghetti squash!
Ingredients
1 cup halved grape tomatoes
1/2 cup vertically sliced red onion
3 tablespoons chopped fresh cilantro
2 tablespoons fresh lime juice
3/8 teaspoon salt
1/2 teaspoon freshly ground black pepper
2 avocados, peeled and diced
2 garlic cloves, minced
1 jalapeño pepper, seeded and finely chopped
2 tablespoons lower-sodium soy sauce
2 teaspoons dark brown sugar
Cooking spray
4 (6-ounce) tuna steaks
Preparation
Combine first 9 ingredients in a medium bowl.
Combine soy sauce and brown sugar in a small bowl, stirring until brown sugar dissolves. Reserve 1 tablespoon soy sauce mixture. Heat a grill pan over high heat. Coat pan evenly with cooking spray. Add steaks to pan; cook 2 minutes on each side or until desired degree of doneness, basting steaks frequently with soy mixture. Remove steaks from grill pan; drizzle with reserved 1 tablespoon soy mixture. Serve fish with salsa.