[Written in collaboration with Courtney Dec]
Who is excited? It is week 3 of The Ramenu! I have been planning extra hard this week to give you guys some of my amazing recipes! I hope that you have enjoyed all of the recipes the last few weeks, but always remember to comment your favorite foods and what you guys want to see, because I will always post what you guys ask for! So here we go…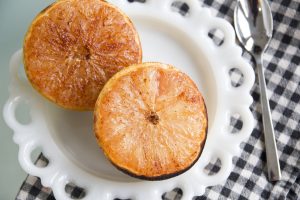 Breakfast: Grapefruit with honey and cinnamon
You need:
Grapefruit
Honey
Cinnamon
Sliced bananas or sliced strawberries
Preparation:
Preheat the oven broiler and cut the grapefruits in half and place on baking sheet. Next, place the sliced bananas or strawberries on top and drizzle honey and sprinkle cinnamon on top. Place the sheet into the broiler for about 5-6 minutes until slightly browned. Let them cool a little before serving!
Lunch: Honey Lime Quinoa Fruit Salad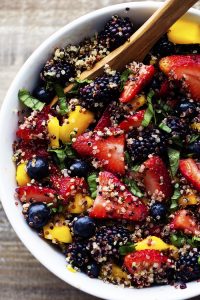 For this you will need:
You need:
1 cup uncooked quinoa
1½ cup of sliced strawberries
1 cup of blackberries
1 cup of blueberries
1-diced mango
Honey Lime Glaze:
¼ cup of honey
2 tablespoons of lime juice
Preparation:
Rinse and cook the quinoa according to the box and let it cool to room temperature. Then, in a large bowl combine the quinoa, strawberries, blackberries, blueberries and mango.
Glaze: Combine the honey and lime juice in a small bowl and drizzle over the fruit salad and toss.
Dinner: Lemon Salmon and Asparagus in foil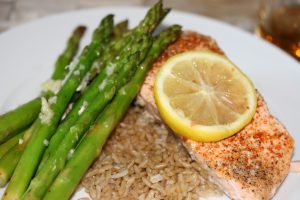 Ingredients:
4 (6 ounce) salmon fillets, skinless
1-pound asparagus without tough ends
2½ tablespoons of olive oil
2 cloves of minced garlic
Salt and pepper
1 lemon thinly sliced
Fresh chopped thyme
Tinfoil
Preparation:
Preheat the oven to 400 degrees F. Then, cut 14-inch long sheets of aluminum foil. Separate the asparagus into 4 equal portions and place in the center of the foil. Stir together the oil and garlic in a small bowl and then drizzle one teaspoon over portion of asparagus and sprinkle with salt and pepper. Rinse the salmon and then season with salt and pepper. Place the fillets over the asparagus and drizzle the top of the salmon with the rest of the mixture and top with salt and pepper. Top each salmon with 2 slices of lemon and thyme. Wrap the foil around the salmon and asparagus.
Next, place the foil on a baking sheet and cook about 25-30 minutes. Serve warm!