[Written in collaboration with Courtney Dec]
The holiday of being able to wear our country's colors, red, white and blue, and celebrating our independence is right around the corner, The Fourth of July! I am sure everyone is ready for the day off of work, the get together everyone will be having and another day to relax (or not so relax); but as a woman and a host, I know all I am thinking about is what outfits I will wear and what I will cook for my guests!
Let's start with the outfits … if you are anything like me I need a day outfit, to hangout around the pool and a night outfit for dinnertime! Don't worry ladies I have got you covered!
Daytime: If you are going to be hanging around by the pool, pick out your favorite bathing suit and throw on a cover up with it! I know that sounds plain, so throw on a long necklace and a bracelet to spice it up!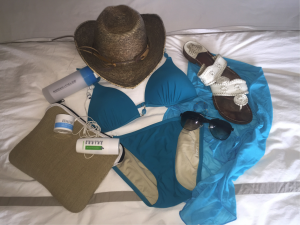 If not by the pool, a sundress will do just fine! You don't want to be too hot while you are enjoying the beautiful summer weather!
Nighttime: For dinner, whether it is a cookout or a restaurant, ALL WHITE. Who does not look more elegant and summery than a woman in white? Either a long maxi dress or I will go with white pants, and a sheer top! I will use my accessories to colorize.
Now that we have our outfits planned, here are some great cookout recipes!
As the main dish, Grilled Salmon marinated in soy sauce and lemon:
Ingredients:
4 salmon steaks, with skin on one side
2 cups soy sauce
2 cups lemon juice
Preparation:
Place salmon steaks, skin side up, in a baking dish. Combine the soy sauce and lemon juice together and pour over the salmon. Let marinate for 2 hours.
Preheat the grill on medium heat (about 350 – 375 degrees). Place the salmon steaks, skin side down, on grill and cook 12 minutes (or until desired wellness). Do not flip the salmon steaks while cooking. Remove from grill and serve on a plate garnished with lemon slices.
For one of the sides, Zucchini Crisps:
Ingredients:
Cooking Spray
2 medium zucchini
1-tablespoon olive oil
¼ cup panko
1/8-teaspoon salt
Freshly ground black pepper
Preparation:
Preheat the oven to 450 degrees and coat the baking sheet with cooking spray. Cook 12-15 minutes (or until desired wellness).
Slice the zucchini into ¼-inch thick rounds. In a medium bowl, toss the zucchini with oil. In a separate bowl, combine the salt, panko and a few turns of pepper. Dip each zucchini slice into the mixture coating it evenly on both sides, pressing the coat on to stick and place on the baking sheet.
Lastly, Garlic Roasted Potatoes:
Ingredients:
3 pounds small red or white potatoes
1/3-cup good olive oil
1 ½ teaspoons kosher salt
1 teaspoon freshly ground black pepper
2 tablespoons minced garlic (6 cloves)
2 tablespoons chopped fresh rosemary
Preparation
Preheat the oven to 400 degrees F.
Cut the potatoes in quarters and place in bowl with the olive oil, salt, pepper and garlic; toss until the potatoes are well coated. Move potatoes to a sheet pan and spread out into 1 layer. Roast in the oven for 45 minutes to 1 hour or until browned and crisp. Flip twice with a spatula during cooking in order to ensure even browning.
Remove the potatoes from the oven, toss with rosemary, season to taste, and serve hot.