[Written in collaboration with Courtney Dec]
Who is always waking up late, running around trying to make a good breakfast quickly in the morning? I know I am, but I also know that breakfast is the most important meal of the day so I try my hardest to get it in every day!
Not only does it give you the nutrients and the energy to get you on your day, but also some studies have shown that it helps maintain a healthy body weight (I'm in)!
With that being said, I have put together a list of healthy, fast breakfast recipes for you!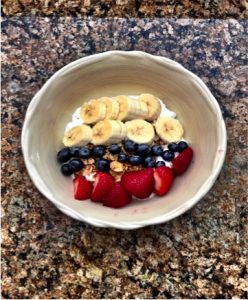 Greek yogurt with granola and fresh berries on top
Ingredients:
1 cup of plain Greek yogurt
1/3 cup of Granola
1 banana sliced
½ cup of blueberries
6 strawberries cut in half
Preparation:
Put Greek yogurt in bowl.
Top with granola, banana, blueberries and strawberries.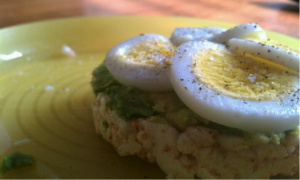 Avocado on rice cake with egg
Ingredients:
2 Lightly salted rice cake
1 avocado
2 eggs
Preparation:
Cook 2 eggs to your preference
Cut the avocado in half and scoop out the insides
Spread a quarter of the avocado onto each rice cake and put the other half of the avocado in a bag in the fridge to save for later.
Place the done eggs on top of the avocado rice cake and it is ready to eat!
Acai Bowl with fresh berries and coconut shavings:
Ingredients:
2 cups of frozen strawberries
2 frozen sliced bananas
4 tablespoons of acai powder
1 cup of unsweetened almond milk, plus more as needed
2 tablespoons of almond butter
½-1 tablespoon of honey, your preference
1 fresh banana sliced
1-cup strawberries sliced
½ cup of granola
¼ cup of coconut shavings
Preparation:
Add the frozen fruits. Acai powder, almond milk, almond butter and honey to a blender and blend until the substance is creaming (add extra almond milk if necessary while blending).
Then, divide the acai mixture up into bowls and top with fresh fruit, granola and coconut shavings.