[Written in collaboration with Courtney Dec]
I am going to start something a little new and it is called The Ramenu! I will post a healthy breakfast, lunch and dinner every week for you guys (my readers) to try out for a day, or for multiple days! I want you guys to give me feedback on which recipes you love! All of the recipes that I will be giving you throughout the weeks are my personal favorites, so I am extremely excited to share them with all of my deserving fans! Also remember they are not all my original recipes, I am not a chef I just LOVE to cook! Some are original, some are not, some I tweak, but they are still my favorite!
First for breakfast I am giving you a recipe to a fast and easy banana and peanut butter smoothie, yum!!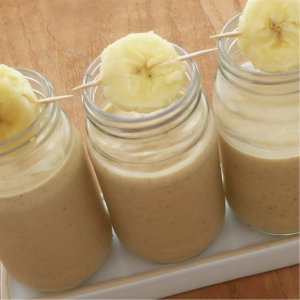 You will need:
2 bananas, broken into fourths
2 cups of almond milk (you can substitute for your favorite kind of milk
½ cups of peanut butter
2 tablespoons of honey
2 cups of ice
All you have to do to prepare it is combine all of the ingredients in a blender and once it's a smooth texture, it is time to drink!
For lunch it is a strawberry, dried cranberry and arugula salad with raspberry cabernet vinaigrette!
For this you will need:
1 cup of washed arugula
4 strawberries, sliced
¼ cup of dried cranberries
2 tablespoons of low fat raspberry cabernet vinaigrette (my favorite is, Marzetti)
Mix all of the ingredients together on a plate and enjoy!
Dinnertime, and we're having whole-wheat pasta with chicken and broccoli
Ingredients: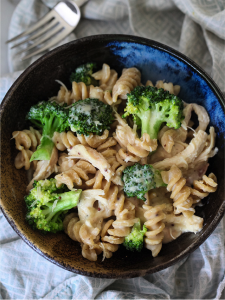 1 cup of whole-wheat pasta or substitute it with spiraled zucchini and summer squash
1 chicken breast
1 cup of broccoli
1-tablespoon olive oil
2-teaspoon salt
2-teaspoon pepper
0 calorie spray butter
To make this dish, boil salted water in a pot and once it is boiling, dump pasta in and cook until it is el dente (to your liking). Or I would use the zucchini and squash for myself; boil 2-3 minutes and sauté 2-3 minutes. (Avery loves the pasta so I make that for her and the vegetables for me)
For the chicken salt and pepper each side, put olive oil in a pan and then place chicken in pan. Cook until each side of the chicken is starting to get golden brown.
In another pot, boil salted water again and add the broccoli to it. It will take about 1-1/2 minutes for it to be crisp and it is already done!
Once the pasta is done, strain, and spray with the butter and add the chicken and broccoli!
I hope everyone enjoyed this week's menu, stay tuned for next week!